Prayer of the Day
Feast of St. Bartholomew, Apostle
August 24th, 2015
"Day after day, proclaim the salvation of the Lord. Proclaim his glory to all nations."
Psalm 96 v.2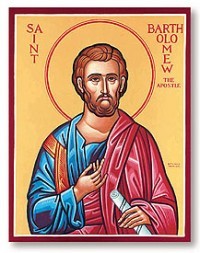 "Jesus when he first met Nathanael,  he said of him, 'There is an Israelite who deserves the name,  incapable of deceit.'  'How do you know me?' said Nathanael.  'Before Philip came to call you,  I saw you under the fig tree.'  Nathanael answered, 'Rabbi,  you are the Son of God,  you are the King of Israel.'   Jesus replied, 'You believe that just because I said I saw you under the fig tree.  You will see greater things than that.'  And he added, 'I tell you solemnly,  you will see heaven laid open and above the son of man,  the angels of God ascending and descending.'"  (John 1 : 45 – 51)
Today is the feast day of St. Bartholomew, Apostle,  who was born in Galilee.  He is probably to be identified with Nathanael of Cana,  whom Philip called to follow Jesus. Tradition says that he preached in India and was martyred there.
Prayer
Lord sustain within us the faith which made St. Bartholomew ever loyal to Christ. Let your Church be a sign of salvation for all the nations. Amen