Prayer of the Day
Feast of St. Bernard, Abbot & Doctor of the Church
August 20th, 2015
"How did you get in here my friend, without a wedding garment."
Matthew 22 : 12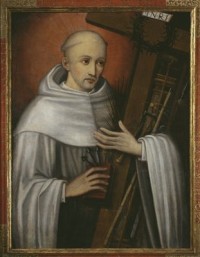 Jesus tells the parable of the wedding feast to explain the kingdom of God. Mingling with the guests the king discovers one man without the customary wedding garment. The man is silent. He has no excuse.
Today is the feast of St. Bernard, who became a Cistercian monk at Citeaux in 1113 and was chosen Abbot of Clairvaux in 1115.  His writings reveal a solid grasp of biblical studies,  spiritual theology and philosophy.  Patron of Gibraltar and beekeepers.
Prayer
Jesus, we too are invited to the wedding feast of your Son. Clothe us in the wedding garment of grace that we may one day be welcomed into your kingdom. May we always wear the wedding garment with joy. Amen