Prayer of the Day
Feast of St. Blaise, Bishop & Martyr and St. Ansgar, Bishop
February 3rd, 2016
"And they would not accept Him."
Mark 6 : 3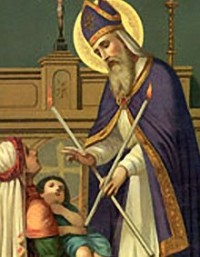 Returning to his home town Jesus preaches in his local Synagogue.  The authorities listen attentively to him and admired his eloquence up to a point.  What bothers them was where and when he had learnt so much.  They decided they knew his family and that was enough to switch off.
Today is the feast of St. Ansgar,  who became Archbishop of Hamburg in the ninth century,  and preached the Gospel in Denmark and Sweden.  He is Apostle of Scandinavia and Patron of Denmark. St. Blaise,  died 315.  He was Bishop of Sebaste and martyred in Armenia.  He is patron of those who suffer from disease of the throat.
Prayer
Jesus give us ears to hear your Words, to meditate on them, to pray over them. Help us to never falter in recognising your Words. Strengthen our faith each day and help us to grow closer to you, keep our faith alive and strong. Amen