Prayer of the Day
Feast of St. Bonaventure, General of the Franciscans, Bishop & Doctor of the Church
July 15th, 2015
"I praise you Father, Lord of Heaven and earth for hiding these things from the learned and the clever and revealing them to mere children. "
Matthew 11 : 25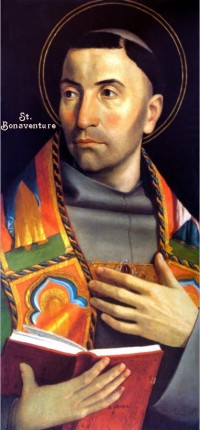 The mission of Jesus is to reveal the Father to all who are open to receive him.  Revelation comes from the Father to his son, Jesus Christ.  Through Christ the message of eternal life comes to all people of good will.  It was not always the educated and the learned who accepted Christ's doctrine.  It was the simple,  country folk who became his followers.  Christ marvelled at the faith of the woman who touched the hem of his garment in order to be cured of her illness.  The doctors of the Law objected to Jesus working miracles on the Sabbath.   The trouble with these religious leaders was their total involvement with keeping the Law as they saw it.  They were very zealous people and prided themselves on their perfect observance of the Law.  They were so busy at this,  they forget the God of the Law.  God told us to love the Lord our God with all our hearts and souls.  That is the First Commandment,  and then our neighbours as ourselves.  When we do that,  we are keeping God's laws.
St. Paul tells us of his new found freedom when God touched his heart on the road to Damascus.  He realised then,  he like the Pharisees,  had been a slave to the Law.  Of course,  we do our best to keep God's law.  Scripture tells us the just man falls seven times a day.  But,  he rises again.  As long as we have God in our sight and love him,  we are on the right path.  The Pharisees wanted the Law kept perfectly.  Not an iota was to be changed.   Cardinal Newman said; "To live is to change and to be perfect is to have changed often."   Life changes and our way of looking at problems changes.  Julian of Norwich said; "All will be well and all manner of things will be well."   Just trust in God.
Prayer
In you O Lord I put my trust, let me never be confounded. Amen