Prayer of the Day
Feast of St. Bridget of Sweden
July 23rd, 2014
""The life I now live.... I live in faith, faith in the Son of God who loved me, and who sacrificed himself for me.""
Letter of St. Paul to the Galatians 2 : 20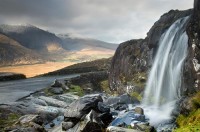 St. Paul reminds us that Christ has given his life in love for each one of us and expects us to live our lives in goodness and thanksgiving for this great gift.   We do this when we live according to his laws of love, justice and peace by loving our neighbours and being upright and truthful in his service.
St. Bridget was born in Sweden in 1303.  She brought up eight children,  and after the death of her husband dedicated herself to an ascetical life.  Later she founded the Bridgettine Order and lived in Rome.  She wrote many workds about her mystical experiences.  She died in Rome in 1373.  She was declared a Patron of Europe in 2000.
Prayer
Dear Lord, send us your Holy Spirit to open our hearts and minds to listen to your voice and obey your wishes in how you wish us to live our lives. Amen