Prayer of the Day
Feast of St. Brigid
February 1st, 2014
""Master, do you not care if we perish.""
Mark 4 : 38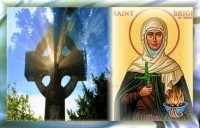 We read in today's Gospel that our God is a God whom even the wind and the seas obey,  who has power over all things.   This knowledge ought to give us courage and deep peace to remain calm even in the midst of great difficulties.  The story of the boat in the storm shows us the nearness of God,  and how he keeps watch over the Church's boat throughout the storm.  His message is one of courage and faith.   Jesus wanted to be alone with his Heavenly Father,  with his disciples.  He wanted to get away from the noisy atmosphere.  While the disciples were struggling,  Jesus had gone up to the hills to pray.  He is not with the disciples physically,  but he is caring for them.  The boat of the disciples is like the Church caught up in violent storms.   Fear is one of the great blocks of life,  and it can block out God's love.  "Do not be afraid" is mentioned in the Bible three hundred and sixty times.  The disciples had faith,  and this was shown by peter walking on the water.  His faith,  however,  was not strong enough to persevere,  but Jesus came to his assistance.  "Courage, it is I.  Do not be afraid."   The storm immediately subsides.  At times there are many storms within myself.  – Lack of forgiveness when I am hurt.   – Lack of acceptance of my failures.  –  Lack of acceptance of others.   These are valuable moments because they give me the opportunity to put my trust in God.
St. Brigid,  whose feast we celebrate today,  is renowned for her hospitality,  almsgiving and care of the sick.  When she was young,  her father wished to make a very suitable marriage for her,  but she insisted in consecrating her virginity to God.  She received the veil and spiritual formation probably from St. Mel, and stayed for a period under his direction in Ardagh.   Others followed her example, and this led her to found a double monastery in Kildare with the assistance of Bishop Conleth.  The St.  Brigid's Cross,  in legend used by Brigid to explain the Christian faith,  remains a popular sign of God's protection.
Prayer
Let us pray for a deep faith, so that we may have confidence in God who is present among us, and who is the source of our peace and calm. Amen