Prayer of the Day
Feast of St. Bruno
October 6th, 2014
""The one who showed him mercy.""
Luke 10 : 37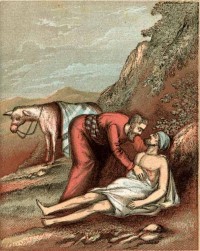 An expert in law stood up and asked Jesus; "What must I do to inherit eternal life?"   Jesus responds with the Parable of the Good Samaritan. (Luke 10 : 25-37)   The expert in law was quoting Deuteronomy 6 : 5.  He understood perfectly that the law demanded total devotion to God and love of one's neighbour.  The law expert treated the wounded man as a topic for discussion;  the robbers as an object to exploit and the priest as a problem to avoid and the Levite as an object of curiosity.  Only the Samaritan treated him as a person to love.  In the reading the theme is the life of the faithful person is contrasted with the faithless person.
Some people were preaching "a different Gospel." (Galatians 1 : 6-12)  They were teaching that to be saved Gentile believers had to follow Jewish laws and customs especially the rite of circumcision.   Faith in Christ was not enough.  The message undermined the truth of the good news that salvation is a gift,  not a reward for certain deeds.  Jesus Christ has made this gift available to all people,  not just to Jews.  Beware of people who say that we need more than simple faith in Christ to be saved,  when people set up additional requirements for salvation,  they deny the power of Christ's death on the Cross.
Prayer
Psalm 5 v.8 "Lead me, O Lord, in your righteousness because of my enemies - make straight your way before me." Amen