Prayer of the Day
Feast of St. Canice, Abbot
October 11th, 2014
""Jesus replied; 'still happier those who hear the word of God and keep it.'""
Luke 11 : 28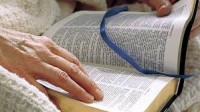 "As Jesus was speaking,  a woman in the crowd raised her voice and said; 'Happy the womb that bore you and the breasts you sucked.'  But He replied; 'Still happier those who hear the word of God and keep it.'" (Luke 11 : 27-28)
Jesus was speaking to people who put extremely high value on family ties.  Their genealogies were important guarantees that they were part of God's chosen people.  A man's value came from his ancestors and a woman's value came from the sons she bore.  Jesus response to the woman meant that a person's obedience to God is more important than his or her place on the family tree.  The patient work of constant obedience is even more important than the honour of bearing a respected son.
In to-day's reading, Galatians 3 : 22-29,  God knew we were sin's prisoners,  but he provided a way of escape – faith in Jesus Christ.  Without Christ everyone is held in sin's grasp and only those who place their faith in Christ ever get out of it.  Look to Christ  – he is reaching out to set you free.
Prayer
Let us bow to God's will in obedience to following the Christian precepts as Scripture shows us, Jesus is the Way, the Truth and the Life. Lord hear our prayer. Amen