Prayer of the Day
Feast of St. Charles Borromeo
November 4th, 2014
""If your brother sins, rebuke him, and if he repents, forgive him.""
Luke 17 : 3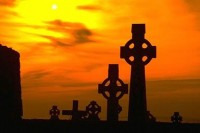 Here Jesus tells His disciples about being wronged seven times in a day,  and forgiving the wrongdoer the same number of times,  should he come asking for forgiveness.  But when Peter asks Him how many times he should forgive his brother and hints at seven times,  Jesus replies; "not seven times,  but seventy-seven times."   For the disciples to forgive endlessly is an impossible act of achievement.  But Jesus assures them that they can do it if they have but a little faith.
Indeed the law on Christian forgiveness requires that we forgive one who seeks forgiveness – as many times as one asks.  The reason being this,  that though we can and must hate sin,  we must love the sinner.  The supreme law is the salvation of souls.
Today we celebrate the feast of St. Charles Borromeo, 1538 – 1584,  Cardinal Archbishop of Milan at the age of twenty one.  He is the patron saint of catechists and seminarians.
Prayer
May the awareness of our sins humble us to go before God in repentance. May we find joy, peace and conversion of heart through confessing our sins. Amen