Prayer of the Day
Feast of St. Colum Cille (Columba)
June 9th, 2014
""Receive the Holy Spirit. As the Father sent me, so am I sending you.""
John 20 : 21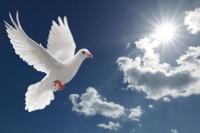 Who is being sent to-day in the power of the Holy Spirit?  You are.  I am.  Each one of us who believes in God is being sent.  Are we aware of our mission?  Well,  our mission is to spread the Good News of the Gospel.  That is called evangelising.  We are all called to be Evangelists.  You don't have to go to the ends of the earth to do this.
What is the message we are bringing?  It is that God loves us and wants us to love him and love everyone else.  We can reveal that love throughout our lives in our homes,  in our parishes,  on the playing fields,  in our work place,  among our neighbours and friends.
Kindness and goodness are catching.  That is how we spread our faith.  It was said of the first Christians, "See how these Christians love one another." (Acts of the Apostles)   This is our road to Heaven.  It's not an easy road to follow.  But it wasn't easy for Christ either.   However,  we must not be afraid.  We are in God's hands.  The whole earth is God's.  The ground we stand on is holy as God said to Moses on Sinai.  So,  we much cherish our earth and all the inhabitants of the earth  for it is the body of God who created it to be our home.
Prayer
Let us pray: Holy Spirit, you sent Christ into our world to carry the Good News to the poor. We ask you to help us to continue your work here on earth by serving you in the poor, the needy and all who require special care. Amen