Prayer of the Day
Feast of St. Cornelius and St. Cyprian
September 16th, 2014
""Young man, I say to you wake up.""
Luke 7 : 14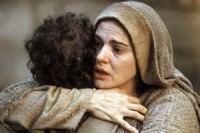 Today's Gospel is a story of grief and hope,  of human grief which is lifted and transformed by the compassion of Jesus.  He touches the coffin of a dead man,  and commands him to arise.  Immediately,  the man gets up and begins to speak,  and Jesus gives the man back to his widowed mother.   Jesus' compassion led to a miracle.  As disciples of Jesus,  we must cultivate the grace and virtue of compassion,  because,  in our lives too,  this will lead to healing and miracles.  Compassion is a healing grace,  and the Spirit works in us to make us merciful and compassionate towards others.  Saint John of the Cross once said; "Let all find compassion in you."  This powerful miracle of  compassion fills our hearts with joy also,  as it proclaims the wonderful truth that Jesus is the Lord of life with the power to overcome death.  it reveals Him as the tender hearted and compassionate Son of God.  The crowd are absolutely correct in their exclamation: "God has visited his people."
Today we celebrate the feast of Saint Cyprian who was born in Carthage in 210.  At a time of great persecutions,  he encouraged his people,  and by word and example,  led them to understand and witness to the faith.   He was martyred in 258.  Cornelius became Bishop of Rome in 251 and died in exile in 253.
Prayer
Father, fill us with the new life of the Spirit, and take possession of our lives today. Amen