Prayer of the Day
Feast of St. Declan
July 27th, 2016
"The Kingdom of Heaven is like treasure hidden in a field."
Matthew 13 : 44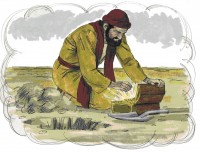 In today's Reading,  Jeremiah expresses the agony of his failure,  but God tells him a prophet must realise that what he preaches is difficult and painful.  He will have to suffer in silence but strength will be given to him.  He is not alone,  as God will always be with him.
Today is the feast of St. Declan,  who is considered to be one of the pre-Patrician saints.  He was of noble blood.  He went to Europe to continue his studies where he was ordained priest and possibly bishop.  He settled in Ardmore and evangelised the Decies country.
Prayer
Let us pray; Sacred heart of Jesus, we place all our trust in thee. Amen