Prayer of the Day
Feast of St. Elizabeth of Portugal
July 4th, 2014
""What I want is mercy not sacrifice.""
Matthew 9 : 13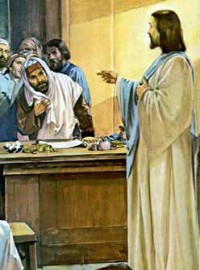 The decision of Matthew,  a well known tax collector,  to follow Jesus,  caused quite a stir among the Pharisees.  For Matthew it was just an ordinary day,  but little did he think that his life would take a turn when Jesus passed by.  He was invited and he responded.  Perhaps he had been mulling things over for a time in search of something that he could not find in his ordinary life.  How many times it seemed that we could change a person's life simply by inviting him out of the life he lived,  but missed it because we never took the chance.  Jesus took his chances with Matthew and succeeded.  Another life was changed simply because someone called.
The reason Jesus does not call the righteous is because no one is truly righteous, but the reason he calls sinners is because we are all sinners in need of grace,  healing and mercy.   We are all dependent on God's mercy,  and we need to extend the mercy we have received to everyone we meet.  We cannot,  we must not,  judge another person.  God's mercy always triumphs over his justice because mercy is greater then justice.
Born in 1271 into the royal family of Aragon,  Elizabeth was married to the King of Portugal at the age of 12 and had two children.  The marriage was unhappy,  and she lived a life of penance,  prayer and fasting.  After her husband's death,  she renounced the world and lived in poverty as a member of the Third Order of St. Francis.
Prayer
Lord Jesus, may I dedicate my life to the Gospel and give witness to God's love, mercy and forgiveness. Amen