Prayer of the Day
Feast of St. Elizabeth of Portugal
July 4th, 2015
"Blessed is she who believes that the promise made her by the Lord would be fulfilled."
Luke 1 : 45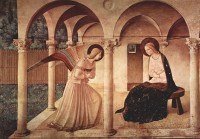 To-day being Saturday, Our Lady's day,  we will reflect on Mary's faith which remained steadfast even during the most difficult times.  Mary's first act of faith was at the Annunciation when she accepted the Angel's message that the would bring forth the Son of the Most High thro' the power of the Holy Spirit.  Her faith was confirmed when she visited her cousin Elizabeth who proclaimed her; "Blessed among women." (Luke 1 : 42)  Having sung God's praises in her Magnificat and helped her cousin as she prepared for the birth of her son, John the Baptist,  Mary returned home.  Once again,  her faith was tested as she awaited Joseph's response to her pregnancy.  What an anxious time this must have been for both of them.  Mary continued to trust in God and had her faith rewarded when Joseph received his own visit from the Angel (Matthew 1 : 18 – 25).  You might expect that all would now go smoothly for this young mother-to-be.  But again her faith was put to the test as she made that long journey to Bethlehem with Joseph and gave birth to her baby in a stable. The visit of the Angels must have added to her joy but there were still more trials to come – the flight into Egypt,  the three days loss of her teenage son in Jerusalem.
The next eighteen years would seem to have passed quietly as the Holy Family shared the life of the ordinary people of Nazareth.  Then at the age of thirty Jesus left his mother to begin his public life.  Mary could expect to share the glory of her Son as he preached to his own people in Nazareth.  But that was not to be.  Instead she saw her beloved Son rejected and hustled out of the Synagogue.  But still she believed in him and her faith brought her to the foot of the Cross where she became the mother of us all.  As Mary now shares fully in the glory of her Son,  let us ask her to help us live by that faith which sustained her during her life.
Prayer
Holy Mary, Mother of God, pray for us that our faith in your Son will never weaken but sustain us in every trial. Amen