Prayer of the Day
Feast of St. Eoghan, Bishop
August 23rd, 2016
"God called you so that you should share the glory of our Lord, Jesus Christ."
2 Thessalonians 2 : 14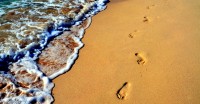 Paul is writing this short letter to the Church in Thessalonica to encourage them to remain faithful to the Gospel which he preached to them.  He knows that they are suffering great persecution and their faith is being tested but he wants to remind them of their noble vocation.  Paul himself had introduced them to Christ and had proclaimed to them the mystery of his death and Resurrection.  They must never forget that Christ is their hope of glory.  They are destined to share His Kingdom in Heaven if they remain faithful.  Paul assures them of his prayers and ask them to pray for him that he may continue to preach God's message and that it may bear fruit in peoples lives.
As we read this letter of St. Paul written to the early Christians nearly 2,000 years ago,  we can't help thinking how history is being repeated in the lives of so many Christians in our own time.  The least we can do is to pray for our suffering brothers and sisters in so many countries and support those organisations and missionaries who are trying to bring them relief.
Today is the feast of St. Eoghan who lived in the sixth century and was said to have been taken by pirates to Britain.  After obtaining his freedom and studying at Candida Casa he returned to Ireland and made a foundation at Kilnamanagh in the Wicklow hills.  His principal foundation was at Ardstraw,  Co. Tyrone.
Prayer
Lord we pray for all those suffering today because of their faith in you. Be their consolation and strength. Help them to remain faithful. Amen