Prayer of the Day
Feast of St. Fachtna, Bishop, St. Pontian & St. Hippolytus
August 13th, 2014
""Where two or three meet in my name I shall be there with them.""
Matthew 18 : 20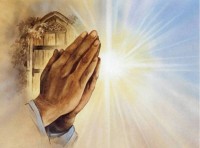 Prayer in common has always been an important part of community life whether it be family,  parish or religious community.  It is a practice which predates Christianity.  Our Lord himself, while he spent many hours praying alone, was also a faithful observer of the weekly gatherings in the Synagogue and the larger celebrations in the Temple for the Jewish feasts.
In making a promise to be with those who join together in prayer Our Lord is stressing the importance of belonging to the Church which is his Body.  We sometimes hear people say; 'I don't need to go to the Church on Sunday.  I can say my own prayers at home.'   Of course,  praying alone at home is very important but through our Baptism we belong to a community of believers and we need one another's presence and participation at our Sunday worship.
Meeting in the Lord's name means we join with him in offering praise and thanksgiving to our Heavenly Father.  But it also means that we join with our brothers and sisters in a common act of worship.  That is why we always begin our celebration by asking forgiveness of God and of one another.  And before we receive Holy Communion we greet one another with a sign of peace as a sign that we're in communion with all those present.
Prayer
Father we rejoice to be your children. We ask you in the name of Jesus to make us one in your love so that we may be a sign of your love for all people. Amen