Prayer of the Day
Feast of St. Fiacre, Monk
August 30th, 2016
"They were astounded at his teaching, because he spoke with authority."
Luke 4 : 32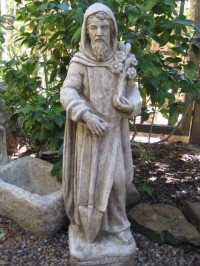 Jesus is the Word of God who proclaims the Kingdom by His words and deeds.  The in breaking of the Kingdom means the defeat of evil forces as shown in demonic possession.  Jesus' exorcisms are unique in the sense that the demons never return to their former habitat.  Christians now know the difference by their faith,  that Jesus is none other than the Word of Truth.  As His followers we too much preach the Word of God as word of truth.
Today is the feast of St. Fiacre,  who went abroad to seek a hermitage.  He was given a hermitage near Breuil and there he stayed until his death around 670.