Prayer of the Day
Feast of St. Finbarr, Bishop
September 25th, 2015
"Jesus asked; 'Who do you say I am ?' It was Peter who spoke up; 'The Christ of God' he said."
Luke 9 : 20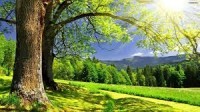 Jesus raised the question of his identity while he was praying in the presence of his disciples.  First he wants to know what the people are saying about him.  But more importantly he needs to know what his own disciples think of him.  They are the ones who have been in his company for three years.  They have listened to his preaching,  watched  him heal the sick,  feed the hungry,  even raise the dead to life.  But do they know him?
No doubt Our Lord was consoled with Peter's act of faith proclaiming his as 'the Christ of God.'   In other words he was the long awaited Messiah.  But people had their own ideas about the Messiah.  For many he would be a political leader bringing power and glory to the Jewish people.  Jesus had now to reveal himself to the disciples as the Suffering Servant who would save his people by dying for them.   So Peter's act of faith is followed by the first prediction of the Passion foretelling Our Lord's rejection,  suffering,  death and finally resurrection.
Our Lord addresses the same question to us today as he did to his disciples – who do you say I am ?   It is easy to recite the Creed and proclaim Jesus true God and true man but the real test is how does being a Christian influence my life.  Do people know I am a follower of Jesus by the way I live ?  Francis of Assisi once told his followers that they must preach the Gospel every day – using words only when necessary.
Prayer
"My Lord and my God." (John 20 : 28) Amen