Prayer of the Day
Feast of St. Finbarr
September 25th, 2014
""Vanity of vanities. All is vanity! For all His toil under the sun what does man (woman) gain by it?""
Ecclesiastes 1 : 2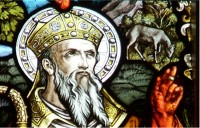 This passage reminds us of our own nothingness;  we depend utterly on God.  When we accept this,  we can abandon ourselves like a little child into the arms of God and so allow God to do with us what he wills.  Holiness consists in doing just this.
Today is the feast of St. Finbarr,  who came to Loch Irce (Gougane Barra) and lived there as a hermit.   When disciples gathered round him he moved to Cork at the mouth of the Lee where he founded a monastery which became a famous centre of learning.
Prayer
Lord, help me to abandon myself to you each day by accepting whatever comes my way. Free me from the desire to be in control in daily life. I need your help, Lord, so please, make me strong to surrender myself to you. Amen