Prayer of the Day
Feast of St. Fintan and Seven Holy Founders of the Servites
February 17th, 2015
""Be on your guard against the yeast of the Pharisees.""
Mark 8 : 15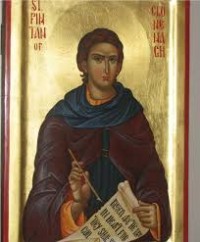 In the Bible yeast or leaven can symbolize evil and corruption.  Jesus used the metaphor of yeast to warn his disciples against the teaching of the Pharisees,  which he regarded as evil and corrupt.  The disciples like ourselves were slow and dull at times to catch on to the truth that Jesus was seeking to communicate.  He was always encouraging them to use their spiritual faculties – the heart, the eyes, the ears and the memory.  It is good for us at times to examine our emotions. Through the grace of baptism we have received a new heart – not a heart of stone, but one which is warm,  receptive and open to the things of God.  We live in a secular culture which is opposed to the vision of faith.  This is the yeast in our society,  and we must be careful that it does not permeate our hearts and minds.
Today, we celebrate the feast of Saint Fintan,  who was born in Leinster and received his religious formation in Terryglass, Tipperary, under the Abbot Colum.  He died in 603.  In the early thirteenth century,  seven young merchants of Florence decided to help one another to live more perfect Christian lives.  As a result of a vision,  they became known as the Servants of Mary and followed the rule of Saint Augustine.
Prayer
Lord God, hear the people who call to you in their need, and lead your Church in the way of peace. Amen