Prayer of the Day
Feast of St. Francis of Assisi
October 4th, 2014
""Rejoice instead that your name is written in heaven.""
Luke 10 : 20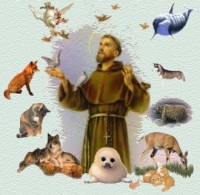 Jesus listens to the rejoicing of his disciples who come back happy with their performance among the people. They have discovered they can perform miracles and so on but Jesus takes the wind out of their sails and reminds them they should be rejoicing that their names are written in heaven.
Today is the Feast of St. Francis of Assisi 1181 – 1226, who abandoned all things for the love of Christ.  He founded the Friars Minor,  and with St. Clare,  the Poor Clares.  For the last two years of his life he suffered the stigmata.
Prayer
Jesus, give us the true spirit of joy. With your grace give us the joy of the certainty that our names are also written in heaven. Help us on our way there. Amen