Prayer of the Day
Feast of St. Fursa, Abbot & Missionary
January 16th, 2016
" The Eucharist gathers us in our weakness and strength and unites us in love of one another."
Mark 2 : 13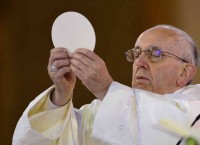 Jesus went out to the shore of the lake; and all people came to him, and he taught them. As he was walking along he saw Levi the son of Alphaeus, sitting by the customs house, and he said to him. '' Follow me '' and he got up and followed him.
When Jesus was at dinner in his house, a number of tax collectors and sinners were sitting at the table with Jesus and his disciples; for there were many of them among his followers. When the scribes of the Pharisees party saw him eating with sinners and tax collectors, they said to his disciples, '' Why does he eat with tax collectors and sinners?'' When Jesus heard this he said to them,'' It is not the healthy who need the doctor, but the sick. I did not come to call the virtuous, but sinners. ''
This section takes us to Jesus' call of the tax collector to discipleship. This is one of the controversies the second, is Jesus allowing sinners to follow him and eating with them. Reflecting on this, persons whose lives differ morally and religiously, how accepting are we of them in our Parish community?
Jesus' reaching out to sinners, was not acceptable and eating with them. This in the light of Jesus proclaiming God's Kingdom. The scribes and the Pharisees considered themselves righteous. They failed to see God the source of true 'Light.'
Prayer
Jesus, source of all wisdom, our prayer to see your presence in all People. Amen