Prayer of the Day
Feast of St. Fursa
January 16th, 2014
""A leper came to him, begging him…'If you choose, you can make me clean…' Moved with pity, Jesus stretched out his hand and touched him, and said to him… 'Be made clean'.""
Mark 1 : 41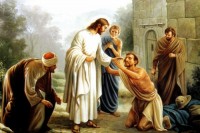 The story of the leper who was healed shows that Jesus respected the Law: he commanded the healed leper to carry out the requirements of the Law. The account of the healing dispenses with details of time and place; the appearance of the leper before Jesus is the only thing important. The leper is outside the community; he is 'unclean'. The most important thing about Jesus' action is the fact that he allows such a person to approach him and especially that he touches him.
The accounts of Jesus' first miracles show that there is no hard and fast line between the exorcisms and the miracles of healing. Leprosy and fever are regarded as personal forces which must be expelled, like the unclean spirits, if the victim is to be cured.
Prayer
Lord, I pray for healing for those who are in pain and distress. Amen