Prayer of the Day
Feast of St. Fursey
January 16th, 2015
""Seeing their faith, Jesus said to the paralytic; 'My child, your sins are forgiven.'""
Mark 2 : 5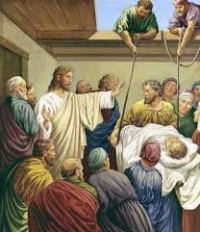 In to-day's Gospel we hear how a paralytic was brought to Jesus on a stretcher and let down thro' the roof because the crowd made it impossible for them to enter thro' the door.  There are several things we could comment on in this story – the courage of the man's friends,  the criticism of the Scribes when Jesus said to the man; "Your sins are forgiven" or the physical healing that took place in response to their criticism.  But let us look at the faith of those four men who carried their friend to Christ.
These men must have had a very strong faith in Jesus' power to heal.  Maybe they had witnessed his miracles already.  They were sure that if only they could get their paralysed friend to Jesus another miracle would happen.  So nothing was too big an obstacle in achieving their goal – not even stripping the tiles of the roof!  Jesus was touched by the faith of these four men and responded immediately by forgiving and healing their friend so that he walked away carrying his stretcher and holding his head high.  Later on Jesus will say; "If two of you on earth agree to ask anything at all,  it will be granted to you by my Father in Heaven." (Matthew 18 : 19)   No wonder he responded so quickly to the faith of these four men who brought their friend to him.   What about our faith?  Do we bring our family,  friends or the sick to Jesus in our prayer?   Do we invite them to join us in prayer or worship?  Do we bear witness to Christ by practicing our faith?
Prayer
Lord I thank you for the gift of faith and for those who have nurtured it. Help me to share my faith with others so together we may grow closer to you. Amen