Prayer of the Day
Feast of St. Ignatius of Loyola, Founder of the Society of Jesus
July 31st, 2015
"None of you can be my disciple unless he gives up all his possessions."
Luke 14 : 33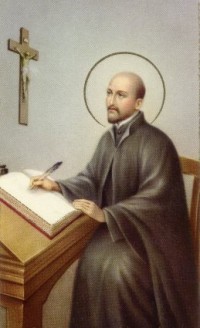 The condition for discipleship is total commitment. Those wishing to follow Jesus must discern in prayer the cost.  Inherent in the commitment is sacrifice.  The following is total even of possessions.
Great crowds accompanied Jesus on his way and he turned around and spoke to them;  "If anyone comes to me without hating his father and mother he cannot be my disciple. Anyone who does not carry his cross and come after me cannot be my disciple." (Luke 10 : 25)
In celebrating St. Ignatius we offer thanks for his gift of total commitment. The Eucharist, the source of all holiness to lead us to eternal praise of Jesus.
Prayer
God our Father, may we proclaim your glory. Amen