Prayer of the Day
Feast of St. Ignatus of Antioch
October 17th, 2014
""Whoever serves me must follow me.""
John 12 : 26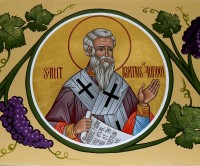 There is a lot we can learn from nature, and our Lord loved to apply it in his preaching.  Jesus observed the seasons, noticed the fields and reflected on the most common daily activities of his day: farming, fishing, carpentry.
  "Unless the grain of wheat falls to the ground and dies, it remains just a grain of wheat; but if it dies, it produces much fruit." This is the Law of Nature. This is the Law of Life. We are called to be much more than animals, for we were created to be more. We were called to be much more than humans, for we were loved to be much more, what greater love has man! What greater love has God! He leads by example. It is written in our hearts because Christ wrote it with his blood.
 "Amen, amen, I say to you"…
– "whoever sows sparingly will also reap sparingly" (2Cor 9:6).
– "Blessed the man who is gracious and lends to those in need" (Ps. 112:5);
– "for God loves a cheerful giver" (2Cor 9:7b).
Today, the Lord is asking us to give till it hurts and to smile.
Prayer
Lord, you are the way, the truth and the life. We praise you for the gift of your Spirit who liberates us in our uncertainty. As we seek your will, release us from all prejudice so that we may be eager to journey more closely with one another and with you. Amen