Prayer of the Day
Feast of St. James, Apostle
July 25th, 2014
""We are only the earthenware jars that hold this treasure, to make it clear that such an overwhelming power comes from God and not from us.""
Letter of St. Paul to the Corinthians 4 : 7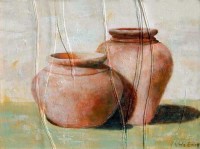 In this Epistle we are encouraged to let our light shine in the darkness – this light that has shone in our lives – the light of the Gospel.  We are urged to share this light – we are saved through the life,  death and Resurrection of the God who has become man for us, Jesus.
St. James,  son of Zebedee and brother of John,  called the Greater.  He was put to death by Herod Agrippa about the year 44,  being the first of the Apostles to die for Christ.  His shrine is at Compostella in Spain.
Prayer
Thank you, Lord, for lighting up our faith with this knowledge of salvation - God's wonderful gift to us when we keep his laws and live our lives in his service. Amen