Prayer of the Day
Feast of St. Januarius
September 19th, 2014
""Jesus walked through towns and countryside.""
Luke 8 : 1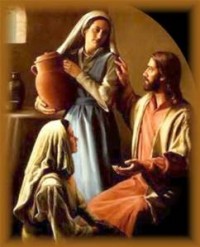 Jesus chose the twelve disciples to be with him as he started his public ministry.  There is also another group of disciples who were not well known,  but who took part in the ministry through their service.  They provided for the disciples out of their own funds,  and in so doing,  enabled the Lord and the disciples to dedicate their lives to proclaiming the Kingdom of God.  Unlike so many people in the Gospel accounts,  their names are not hidden from history.  They included Mary called Magdalene,  Joanna and Susanna.  These women were the backbone of the mission of Jesus during his time on earth.
In life we owe a great debt to many people we will never meet,  like those brave soldiers who fought in World War I and II,  so that we could continue to enjoy freedom and peace.  We are also indebted to the silent women of the Gospel.  Jesus valued these women and respected their contribution.  Pope Francis has a positive appreciation of women,  and is committed to bringing more women into positions of leadership and influence in the running of the Church.
Today is the feast of Saint Januarius who was Bishop of Benevento. He was martyred in Naples in 305 with six other Christians during the persecution of Diocletian.
Prayer
Lord we give thanks for the gift of women. May the Holy Spirit raise them up on eagles wings. Amen