Prayer of the Day
Feast of St. John Chrysostom, Bishop & Doctor of the Church
September 13th, 2016
"Young man, I say to you, rise!"
Luke 7 : 14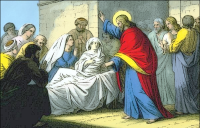 The Gospel has the making of a drama,  a widow,  the only son,  the feeling of pity and the giving back to the mother,  the fear of the people.  Jesus touches them all,  this is what matters and changes them forever.
Today is the feast of St. John Chrysostom, 347 – 407,  one of the four great Greek Doctors  the 'Golden mouthed' preacher,  was Archbishop of Constantinople.  He incurred much opposition and died in exile.  He is patron saint of preachers.
Prayer
Lord we are your people, the sheep of your flock. Amen