Prayer of the Day
Feast of St. John Damascene
December 4th, 2013
""Jesus cures many and multiplies the loaves.""
Matthew 15 : 29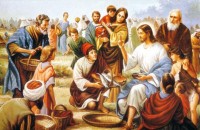 Today's Gospel is like the rising sun. It is always the same sun, every day, which rejoices life and renders plants fertile. The elements which form the picture of the Gospel are always the same: Jesus, the mountain, the sea, the crowds, the sick, the needy, the problems of life. In spite of the fact of knowing them well, like the sun of every day, these same elements always bring a new message.
Like Moses, Jesus goes up to the mountain and the people gather around him. They bring their problems with them: the sick, the lame, the blind, the mute, the deaf, so many problems… not only the big ones but also the small ones. They are the beginning of the new People of God who gather together around the new Moses. Jesus cures all of them.   Jesus has compassion of the people who have nothing to eat.   According to the Disciples, the solution has to come from outside: "Where to find bread to feed so many people?" According to Jesus the solution has to come from the people: "How many loaves have you?"  "Seven loaves and a few small fish".  With these few loaves of bread and small fish Jesus satisfies the hunger of all, and there are even some left over.  If today people would share what they have, there would be no hunger in the world. Many things would be left over! Truly, another world is possible!   The account of the multiplication of the loaves recalls the Eucharist and reveals its value in saying: "Jesus, took the bread in his hands, gave thanks, broke it and gave it to his Disciples".
Prayer
The Lord is my shepherd; I shall not want. In verdant pastures he gives me repose. (Ps. 23) Amen