Prayer of the Day
Feast of St. John of the Cross
December 14th, 2015
"At the end of our lives we will be judged on love."
John of the Cross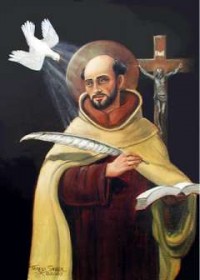 John of the Cross was a Carmelite priest,  mystic and poet who lived in Spain in sixteenth century.  From an early age he experienced poverty and deprivation but it was a poverty made fruitful by the tenderness of his mother who was left a widow when John was only a baby.  As a teenager he worked as a nurse and joined the Carmelite Order at the age of twenty one.  Not finding all he expected from a contemplative community as a young priest he tried to bring about a renewal of the Order.  Rejected by most of his Carmelite Friars he was put in prison where he spent nine months in solitary confinement before he managed to escape to a place of refuge with the Carmelite Nuns.
It was during these months in prison that John encountered Christ in a very deep way and wrote his first poem – The Canticle.  In this poem John tries to describe his beautiful relationship with his Beloved.  All his writings carry the same message – God is a tremendous lover who loves each of us and wants to bring us into a loving relationship with him.   That all sounds wonderful except that it means we have to empty our hearts completely and make him welcome.  This requires self sacrifice – leaving and losing things that bring security – living for God Alone and for our neighbour.
As someone who had experienced rejection and criticism from others,  John is in a position to offer advice to those struggling with relationships; "where there is no love,  put love and you'll find love" is the motto.  Challenging words but as always John of The Cross assures us that we are not striving on our own – Jesus,  that tremendous lover is always there to help us.
Prayer
"Do you awaken us, my Lord, and shed your light upon us that we might recognize and come to love the blessings that you always hold out to us, and we shall realise that you stepped forward to show us your favour and that you have not forgotten us." (Living Flame 4 : 9 - John of The cross) Amen