Prayer of the Day
Feast of St. John Paul II, Pope
October 22nd, 2015
"I am here not to bring peace but division. "
Luke 12 : 49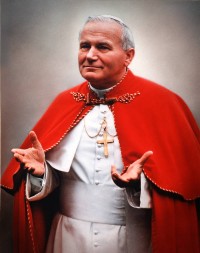 Jesus said to his disciples: ''I have come to bring fire to the earth, and how I wish it were blazing already! There is a baptism I must still receive, and how great is my distress till it is over! ''Do you suppose I am here to bring peace on earth? No I tell you but rather division. For from now on a household of five will be divided :three against two and two against three, the father divided against the son, the son against the father, the mother against the daughter, daughter against mother, mother-in- law against daughter- in law, daughter in-law against mother in- law.''
Jesus' message is to distinguish the drossiness. Jerusalem is for Jesus the source of much stress. Obedience to the Father's will. Jesus' 'Passion and Death' the journey to Jerusalem, opposition and rejection similar to Moses and Elijah, (Lk. 9: 31) heavenly Prophets. Peace will not be attained if this compromises God's word. Reflective passage for prayer. In our journeys may the light of Jesus enfold in shadows and the inconspicuousness of life.
Prayer
Lord Jesus, for your presence along our journeys thank you. Amen