Prayer of the Day
Feast of St. John Vianney
August 4th, 2016
"When he saw the crowds he felt sorry for them."
Matthew 9 : 36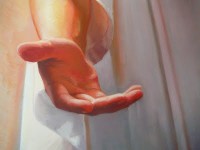 The harvest is still great and the need for labourers is as great as ever. In asking the Lord to send labourers into the harvest, we have to ask ourselves what is the role of each one of us. It is not just a question of priests and religious, but to every one of his followers – to every one of us who has been baptised. Every one of us is being called to be a harvester. Each one of us can reach a corner of the harvest field that is accessible to no one else. These include my family, my neighbours, my work colleagues and others who come into my life. I may be the only person who brings Jesus with his healing and compassion into their lives.
Once we say Yes to God and his Son, they become part of our lives.
Today is the feast of St. John Vianney 1786 – 1859,  who had to content with poverty,  military service and his own intellectual shortcomings in order to become a priest.  In 1817 he was sent to Ars, a small French village and from 1830 the cure averaged twelve to sixteen hours a day in the confessional.  He is Patron of priests.
Prayer
Lord, the cries of the poor and broken hearted are evident in the mass migration daily. Let me not forget that you summon me today, to be your eyes, your ears and your hands of compassion. May I respond with loving compassion to all who come to me. Amen