Prayer of the Day
Feast of St. Josaphat, Bishop & Martyr
November 12th, 2015
"The kingdom of God is among you."
Luke 17 : 21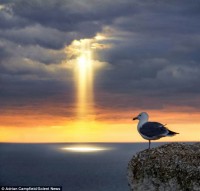 The Pharisees ask Jesus when they are to expect the kingdom to come. For them it is a very important question.  Jesus does his best to explain to them the signs, but also admits that the kingdom of God is among them.  They have no idea what he means for they have built their hopes on an earthly kingdom.
Today is the feast of St. Josaphat (1580 – 1623),  Bishop of Polotz.  He worked for the reunion of Ukranian Catholics.  His murder by those who opposed it brought about many conversions.
Prayer
Lord, we believe your words but sometimes in life it is difficult to see signs of the kingdom around us. Deepen our faith to read the signs of the time, which are all pointing to you as the Master of the Kingdom. Amen