Prayer of the Day
Feast of St. Joseph
March 19th, 2015
""Joseph did what the angel of the Lord had told him to do.""
Matthew 1 : 24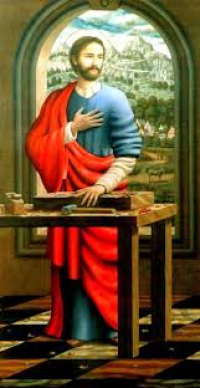 This is a striking moment in Joseph's life; all of what he knows—his life,  religion and   ethics—is being questioned by an angel in a dream, and that angel is inviting him to forsake all that knowledge and understanding to participate in a larger story.
I believe that we're all a little like Joseph; we all limit ourselves by our tried-and-true ways of doing things. We each have our own ways of dealing with personal, spiritual, and professional matters, our own ways of moving through this demanding season of the year. Perhaps there is a voice we're already dimly aware of from a dark, and mysterious place. Is there a voice that is asking us to go beyond those tried-and-true ways in order to surrender more fully to God and to assist in the coming of Emmanuel "God with us" in our own lives and in the life of the world.
Prayer
St. Joseph help us to face the dark inner places in our lives so that we too surrender more fully to God. Amen