Prayer of the Day
Feast of St. Kevin, Abbot
June 3rd, 2014
""So that they may be one, as we are one.""
John 17 : 11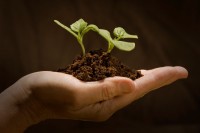 "Jesus raised His eyes to Heaven and said; 'Father, the hour has come.  Give glory to your Son, so that your Son may glorify you.'" (John 17 : 1)  The periscope forms part of what has come to be known as Jesus' high prayer,  which summarises the content and direction of the Fourth Gospel.  It takes up God's decision to give His Son authority and power over all peoples and creation.  In His Ministry,  Jesus uses His authority to preach,  and His power to forgive sins.  Those who witness the miracles He performs now know that He has power over sickness,  demons and the elements.  Jesus uses His power to serve and gives His life as ransom for many.  He shares His power with His disciples that they may continue His mission with the help of the Holy Spirit.
As a Christian your authority is derived from being a child of God,  adopted in Jesus' name.  The Holy Spirit bestowed on you gifts that must be used for the good of others.
Prayer
May God's spirit help us to pray fervently in Jesus's name, and grant us the grace and courage to proclaim your Gospel with our words and deeds. Amen