Prayer of the Day
Feast of St. Laurence of Brindisi
July 21st, 2014
""This is what God asks of you: only this, to act justly, to love tenderly and to walk humbly with your God.""
Micah 6 : 8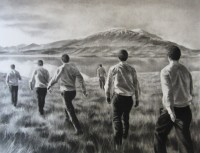 How simply yet powerfully does the prophet Micah tell us what God wants of each one of us.  To be just in our dealings with others;  to see God in others and love them as his children and finally to be humble before God recognising that God is the greatest and we are nothing before Him.  Know your place before God.
St. Lawrence of Brindisi, 1559 – 1619,  was a Capuchin who preached the Counter Reformation.  He led German armies against the Turks in Hungary and gained peace for the people of Naples.
Prayer
God you are the Creator and we are your people. You made us, so we owe everything to you. Make us realise what you have done for us and given us. You want us to share eternal life with you. Help us to live as your children, praising and glorifying you by the lives we live. Amen