Prayer of the Day
Feast of St. Lawrence, Deacon and Martyr
August 10th, 2015
"Very truly, I tell you, unless a grain of wheat falls into the earth and dies, it remains just a single grain; but if it dies, it bears much fruit."
John 12 : 24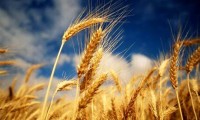 In today's Gospel reading we have a beautiful picture of the sacrifice of Jesus. Unless a kernel of wheat is buried in the ground, it will not become a blade of wheat, producing many more seeds. Jesus had to die to pay the penalty for our sin, but also to show his power over death. His resurrection proves he has eternal life. Because Jesus is God, Jesus can give this same eternal life to all who believe in him.
By laying aside our striving for success, security and pleasure – dying to ourselves – we can serve God lovingly and freely. Releasing control of our lives and transferring control to Christ brings eternal life and genuine joy.
Prayer
Lord, help me to trust you and to live my life in joyful hope. Amen