Prayer of the Day
Feast of St. Luke, Evangelist
October 18th, 2016
"Cause me to hear your loving kindness in the morning, for on you do I lean and in you do I trust."
Psalm 14 v.3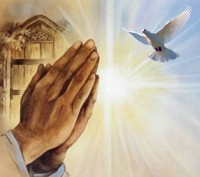 We need to pray and then stop and listen.  Sometimes we can hear God as a still,  small voice from deep within our heart.  Many times God will speak through our inner witness,  suddenly we know the truth and it sets us free.
Today is the Feast of St. Luke who was a physician from a Gentile Christian milieu.  He was with St. Paul on his second missionary journey and during his imprisonment in Rome.  After St. Paul's death he is reputed to have worked in Greece.  He is Patron of butchers,  bookbinders,  doctors,  surgeons,  artists and glassworkers.
Prayer
Give us O Lord to live daily in your presence. Amen