Prayer of the Day
Feast of St. Luke the Evangelist
October 18th, 2014
""The harvest is rich but the labourers are few.""
Luke 10 : 2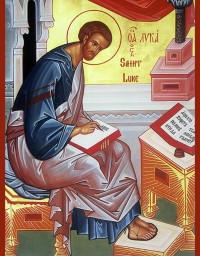 Jesus frequently used the image of a harvest to convey the coming of God's reign on earth.  The harvest Jesus had in mind was not only the people of Israel, but all the peoples, all nations of the world. God so loved the world that he gave his one and only Son, that whoever believes in him shall not perish but have eternal life (John 3:16).
Jesus commissioned the seventy to a two-fold task: to speak in his name and to act with his power.  Jesus gave them instructions in how they were to carry out their ministry.  They must go and serve as men without guile, full of charity and peace, and simplicity.  They must give their full attention to the proclamation of God's kingdom and not be diverted by other lesser things.  They must do their work, not for what they can get out of it, but for what they can give freely to others, without expecting special privileges or reward.  "Poverty of spirit" frees us from greed and preoccupation with possessions and makes ample room for God's provision.  The Lord wants his disciples to be dependent on him.  
Prayer
"Lord, may the joy and truth of the Gospel transform my life that I may be a witness to those around me. Grant that I may spread your truth and your light wherever I go." Amen