Prayer of the Day
Feast of St. Macartan, First Bishop of Clogher
March 24th, 2015
""You are of the world, I am not of this world.""
John 8 : 23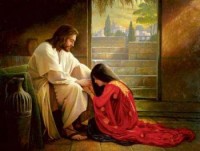 Here Jesus is teaching in the Temple; he has claimed that He is the Light of the world. Only belief in Him will save the world from darkness and evil.  He says He is not from the world but from above.  Jesus then speaks of the judgement of the world and condemnation of sin.  He refers to his relationship with His Father, the One true One, and of His Unity with Him.
In a world of broken relationships, it is good to realise the quality of God's love and care for us through Jesus,  and  His reliance on His Father's love and care.
Prayer
God Our Father, help us to have a deeper relationship with Jesus your Son, and to appreciate God's love and care for each of us. Amen