Prayer of the Day
Feast of St. Malachy, Bishop
November 3rd, 2015
"I was hungry, and you gave me food."
Matthew 25 : 35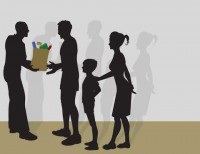 The mystic,  John of the Cross,  writes that in the evening of our lives we shall be judged on love.  The Apostle,  Paul,  tells the early Christians; "love is the fulfilment of the law."  Jesus tells His disciples during the Last Supper;  "Love one another,  as I have loved you,  so you also should love one another."   True love is shown by deeds and not only by words.  It encourages us to give food to the hungry,  and drink to the thirsty,  and clothing to the naked.  It inspires us to visit the prisoner and to welcome the stranger into our home.  It is the kind of love that Jesus,  the Son of Man,  will reward on the last day.
Do you share with those who are in need of spiritual and material goods?  God's priceless gift to us is faith.  By it,  we gain eternal life and we are urged to be generous with all men and women.
Prayer
Lord God, show us how to find happiness by faith, trust, gratitude and generosity, and to reject false messages of material wealth. We ask this through Christ Our Lord. Amen