Prayer of the Day
Feast of St. Margaret Mary Alacoque
October 16th, 2014
""To know the love of Christ which is beyond all knowledge.""
Ephesians 3 : 19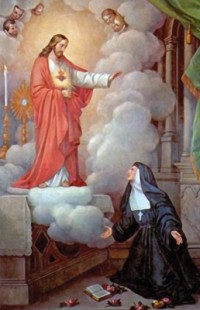 The church cannot stand on its own it needs God's power. If we have the Holy Spirit we have Christ,  if we have Christ we possess the Holy Spirit.  
 We are really praying for changes in our lives, changes that will make us more godly, more like Christ for if Christ is dwelling within us what ought to be happening is that we become more like Christ. Let us pray that we might be strengthened with God's power and pray that Christ might make his home within us so that we become like him.
Someone has said, "Christ's love is broad enough to encompass all human kind, long enough to last for eternity, deep enough to reach the most depraved sinner and high enough to reach to heaven." Paul's point is that God's love cannot be fully measured and it cannot be exhausted.  We need to pray for one another that we might somehow grasp the width, length, height and depth of the love of Christ.  No isolated Christian will understand and know as much about the love of Christ as those who are in regular fellowship with God's people.
Prayer
O God our mystery, you bring us to life, call us to freedom, and move between us with love. May we so participate in your dance of trinity that our lives may resonate with you, now and for ever. Amen