Prayer of the Day
Feast of St. Margaret, Scotland and St. Gertrude, Virgin
November 16th, 2015
"Your promise gives me life."
Psalm 119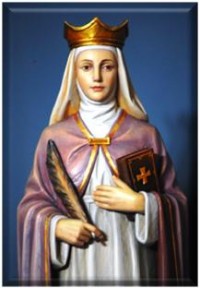 "Remember your word to your servant in which you have made me hope.  This is my comfort in trouble,  that your word gives me life.  The arrogant utterly jeer at me,  but I do not turn from your law.  I am gripped by fury when I see the wicked who forsake your law."  The words this Psalm describes what those who remained firm and strong in Israel during the persecution of Antiochus.
In Luke's Gospel Jesus stopped and called the blind man who was brave enough to call out to Jesus of Nazareth while those with him told him to be quiet.  "What do you want from me?" "Sir,  let me see again."   Jesus said to him; "Receive your sight.  Your faith has saved you."  Instantly his sight returned and he followed Jesus,  praising him and all the people joined in wonder.   Songs,  words of praise work wonders for people,  who use this manner of prayer.
Prayer
Praise God, praise God, let His love remind us of the power of His Name. Father, you filled the heart of St. Gertrude and St. Margaret with the presence of your love, bring light into our darkness and let us experience the joy of your presence and the power of your grace. Amen