Prayer of the Day
Feast of St. Mark, Evangelist
April 25th, 2016
"Go out to the whole world and proclaim the Good News to all creatures."
Mark 16 : 16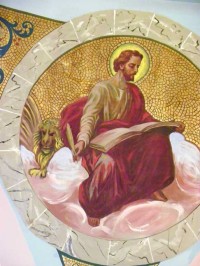 Here Jesus appears to the eleven and upbraids them for their lack of faith.  He, Himself,  has not lost faith in them.  He entrusts them with His own mission.  I presume they felt very inadequate but finally with the help of the Holy Spirit they will get the courage to go into the whole world to preach the Good News.
Today is the feast of St. Mark,  who was closely connected with the preaching of Ss. Peter,  Paul and Barnabas.  His Gospel was probably written at Rome when he was with Paul,  and is traditionally viewed as representing St. Peter's approach to the preaching of the Good News.  His symbol is a winged lion.
Prayer
Jesus I too hear your words but my frailty and weakness weigh me down. Strengthen my faith and zeal so that helped by the Holy Spirit I become a true disciple and spread the Good News in my milieu. Alone I am unable so I trust in your unfailing help. Amen