Prayer of the Day
Feast of St. Martha
July 29th, 2014
""Martha, Martha, you worry and fret about so many things.""
Luke 10 : 38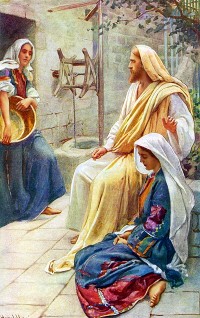 Now the Lord wasn't disturbed that Martha was working hard.   But what must have bothered Jesus more than anything else, was Martha's insistence that Mary get up and leave Him.
 Lord, do you not care?  How can we avoid asking such a question to the Lord?  What can we do?   By sitting next to the Lord, what Mary was effectively doing was praying to God.  She was listening.  This is essentially what prayer is: listening.  Martha is a busy bee.  She gets things done. She's a doer, but not much of a listener.       Prayer helped Mary to see beyond the immediate needs.  It's good to serve the Lord, but it's even better to first listen to Him. 
Prayer
Yahweh, you examine me and know me. You know when I sit, when I rise, you understand my thoughts from afar. You watch when I walk or lie down, you know every detail of my conduct. (Ps 139,1-3) Amen