Prayer of the Day
Feast of St. Martin of Tours, Bishop & Martyr
November 11th, 2014
""In you O God I put my trust, let me never be confounded.""
Psalm 43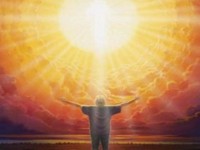 Jesus tells us that when we follow him,  we are not walking in the darkness.  We have the Light of Life with us.  For "God is the way,  the truth and the life" as the Psalmist tells us.   When two of the disciples of John the Baptist first met Jesus,  they asked him where he lived.  Christ invited them to "come and see," John 1 : 35.   If we also want to see Christ we must follow him.  Then,  we too will be walking in the Light.   From the time of our Baptism,  we have hopefully been following the Light of Faith.  This is the road we must follow as Christians,  followers of Christ.   St. Paul says; "I live now not I,  but Christ lives in me."   All of us belong to the mystical body of Christ.  That is a reason for "rejoicing in the Lord always" as Paul tells us in his letter to the Philippians 2 : 2.
Our world is in serious need of hope and joy in the Lord.  The Book of Revelations (21 : 1)  promises us "a new Heaven and a new Earth."  That means for us an abundance of life.  Jesus explained this in the story of the wedding feast.  Here we have an exuberance of love and life which Jesus is waiting to give us if only we ask Him.
Prayer
"Our hearts are made for you, O Lord, and they will never rest until they rest in you." (Prayer of St. Augustine) Amen