Prayer of the Day
Feast of St. Martin of Tours, Bishop
November 11th, 2015
"Were not all ten made clean?"
Luke 17 : 17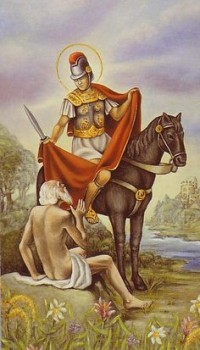 On the borderlands of Samaria and Galilee Jesus finds ten lepers, standing at the edge of the town, calling  out to Jesus to have pity on them. He tells them what to do, so they set off immediately.  On the way they are healed and one returns to thank Jesus.
Today is the feast of St. Martin of Tours,  335 – 397,  Bishop of Tours,  apostle of rural Gaul,  founder of monasteries.  He is a Patron Saint of France,  soldiers,  publicans and beggars.
Prayer
Jesus, let us learn the courtesy of thanking you and others . Thanksgiving and praise are signs of your kingdom among us. Let us begin each morning with a hymn of praise and thanks-giving and let us echo it throughout the day. Amen