Prayer of the Day
Feast of St. Mary Magdalene
July 22nd, 2015
"Mary Magdalene went and announced to the disciples, 'I have seen the Lord'; and she told them that he had said these things to her."
John 20 : 18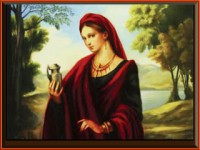 Mary didn't recognise Jesus at first. Her grief had blinded her; she couldn't see him because she didn't expect to see him. The he spoke her name and immediately she recognised him. Imagine the love that flooded her heart when she heard her Saviour saying her name. Jesus is near you and he is calling your name.
Mary did not meet the risen Christ until she had discovered the empty tomb. She responded with joy and obedience by going to tell the disciples. We cannot meet Christ until we discover that he is indeed alive, that his tomb is empty. Are we filled with joy by the good news and do we share it with others?
Prayer
Lord, give us the courage and love of Mary Magdalene, that we may we be bearers of the Good News especially to those who are sad and who need to know that they are loved. Amen