Prayer of the Day
Feast of St. Matthew, Apostle
September 21st, 2016
"As Jesus was walking he saw a man named Matthew sitting at the tax office and he said to him; 'Follow me.' He got up and followed him......"
Matthew 9 : 9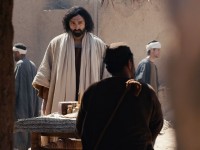 We celebrate the feast of St. Matthew,  Apostle and Evangelist,  today.  Every time we recite the Creed,  we profess that the Church is Apostolic.  Our link to Jesus comes through the testimony of the Apostles – they are our fathers in faith.
St. Matthew,  the tax collector,  may also be identified with Levi,  son of Alphaeus in Mark 2 : 13.  He is said to have been a missionary in Persia and Ethiopia.  He is Patron of accountants,  book keepers,  tax collectors, customs officers and security guards.
Prayer
Lord I believe. May I help generations to be inspired daily. Amen